Since 2005, Vickery Pediatrics has been providing high quality personalized care to the Cumming/ Alpharetta area. We invite you to learn about our caring family of providers and staff whose primary focus is giving your children and family the tools to thrive.
Gwendolyn (Wendy) Delaney, MD, FAAP, Pediatrician
Dr. Delaney was born in South Dakota but has lived all over including a year as an exchange student in Santiago, Chile. She received a B.S. degree at the University of Alabama where she graduated with honors. She completed her Medical Doctorate at The University of Alabama School of Medicine at Birmingham in 1993. In the spring of 1993, she also completed a 6 week externship in Internal Medicine at The Royal Infirmary in Edinburgh, Scotland. In 1996, she completed a Pediatric Residency at St. Louis Children's Hospital, affiliated with Washington University (Barnes Hospital), in St. Louis, Missouri. She is Board-certified in Pediatrics and is a fellow of the American Academy of Pediatrics. From 1996 – 2000, she was in private practice in Lynchburg, Virginia. In 2000, she relocated to Atlanta and joined the ER/Urgent Care Department of Children's Healthcare of Atlanta. In September 2005, Dr. Delaney decided to once again return to private practice and opened Vickery Pediatrics. Her goal was to combine the most up to date technology in healthcare with compassionate, personalized service and continuity of care. Dr. Delaney has 3 children and lives locally. She is actively involved in Medical Mission work, Rotary International and several non-profit organizations. She is fluent in Spanish. Her other areas of interest include Adolescent Medicine, Public Healthcare Policy, Preventive Healthcare, International Medicine and Tropical Diseases.
Lindara Halloran, MD, FAAP, Pediatrician
Nearly an Atlanta native, Dr. Halloran graduated from Roswell High School before receiving her undergraduate degree at Columbia University in New York City. She then came back "home" for medical school and received her degree from the Medical College of Georgia in Augusta, Georgia. She completed her Pediatric Residency, as well as 2 1/2 years of a Pediatric Emergency Medicine Fellowship, at the University of Alabama at Birmingham. In 2005, Dr.Halloran relocated to the Cumming area with her husband and 3 children. Prior to coming to Vickery Pediatrics, she worked in the Pediatric Emergency Room at Scottish Rite Children's Hospital and Gwinnett Medical Center. She joined Vickery Pediatrics in 2011. She is Board – certified in Pediatrics and is a Fellow of the American Academy of Pediatrics. Her area of interests are Adolescent Medicine and GI diseases. Her hobbies are reading, travel and spending time with her kids.
Ginger McIntosh, CPNP
Ginger was born in Texas but spent most of her life in the Atlanta area. She received a Bachelor of Science in Biology degree from Kennesaw State University and later returned to complete a Bachelor of Science in Nursing degree. She worked in the NICU at Egleston for 6 years and in the quality department for Children's Healthcare of Atlanta working to reduce hospital acquired infections. She completed a Master of Science in Nursing with a focus in Pediatric Primary Care at the University of Alabama at Birmingham. She is a Board-certified Pediatric Nurse Practitioner. Ginger has been married 7 years, and she is a mother of two young girls. She enjoys spending time playing outside with her husband and children, exercising, and reading.
Kim Murdock, RN, Clinical Nurse Manager
Kim is one of the few southerners actually born and raised in Georgia. She received her Nursing Degree from Georgia State University in 1991. Kim worked several years at Egleston Children's Hospital on the Cardiology floor. After relocating her family to Memphis, Kim was fortunate enough to become a stay at home mom and take care of her 2 children. When Kim moved back to Georgia 1997, she realized it was time to get back into the workforce. She has always enjoyed working with kids and was very excited to become part of the Vickery Pediatrics family. Kim has 2 college aged children. She enjoys being outdoors especially playing tennis. She also loves to read and just hang out with family and friends.
Samantha Delaney , Medical Assistant
Sam was born in St. Louis, Missouri but grew up in Cumming, Georgia. She is an honor graduate from the University of Georgia and received a degree in Psychology and Spanish. She is planning to pursue a career in pediatric medicine and hopes to begin medical school in 2018. In her free time, Sam enjoys traveling both for mission work and for fun. She has recently begun to work for a local non-profit that trains canine assistance dogs.
Mandi Kay, Medical Assistant
Mandi is from the "Sweet Onion City" of Vidalia, Georgia. She is a graduate of the University of Georgia with a bachelor's degree in Dietetics. Mandi came to us to expand her patient care skills after working at Children's Healthcare of Atlanta at Scottish Rite in the Clinical Nutrition Department. She aspires to become a Pediatric Nurse Practitioner. She is an avid runner and enjoys running in local charity races. She is also involved with a local non-profit organization which teaches and provides service dogs for children and adults with physical disabilities or other special needs.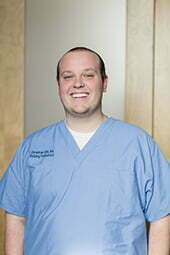 Jonathan Hill, Medical Assistant
Jonathan was born and raised in Buford, Georgia. He attended the University of Georgia where he graduated with a Bachelor's of Science in Microbiology. During his college years, Jonathan was a trumpet player and section leader in the Redcoat Band. He also raised future guide and service dogs for the Guide Dog Foundation for the Blind. Jonathan joins us after working as an Emergency Room Scribe at Gwinnett Medical Center. Jonathan hopes to work as a Physician Assistant in a pediatric hospital and will be starting PA school in 2019. In his free time, Jonathan enjoys hiking to waterfalls with his fiancée and also enjoys spending time with his family.
Christie Carpenter, Lab Tech
Christie was born in Farmington Hills, Michigan but has grown up in Alpharetta, Georgia. She is currently a senior at West Forsyth High School and plans to attend the University of Georgia and major in Food Science or Biology for her undergraduate degree. She hopes to continue her education and become an anesthesiologist assistant in the future. Christie loves playing softball, attending church at Browns Bridge, and volunteering in her community, church small group, and clubs at her school. She also loves spending time with her family and friends any time she can.
Amanda Sorokey, Billing Specialist
Amanda is a native of Albany, New York but moved to Cumming, Georgia as a teenager. She is a recent graduate of UMA where she received her certification in Medical Billing and Coding. As she starts her new career, she is looking forward to utilizing her knowledge in coding and billing at Vickery Pediatrics. She enjoys outdoor activities with her son and fiancé. Her favorite pastime is sitting on the beach and swimming in the ocean. Working with children is something she really loves.
Diane Moxham, Front Office
She is a native of Rochester, NY and has 4 siblings. In 2015, she moved from Albany, NY to the Cumming area to avoid the snow and especially hard winters. She has made Georgia her new home. Diane has worked in the medical field for years and enjoys interacting with the patients and their families. She has found a home with Vickery Pediatrics. Her favorite past time is to relax by a swimming pool and soak up the warmth of the sun. She also enjoys playing darts and is an avid bowler.
Stephanie Allen, Front Office
Stephanie is a native of Danbury Connecticut. She moved to Georgia when she was a child. She is a graduate of Shorter University with a Bachelor's degree in Human Services. Stephanie loves social activities where she can meet new people. She enjoys spending time with her husband and two children. Stephanie has a passion for working with children. Someday, she hopes to start a non-profit organization to help foster children ageing out of the foster system.